Banner Construction installed an antique, family heirloom chandelier in our home. This meant so much to us! They had to add new electric and wiring in order to put the chandelier w [...]
Banner Construction re-plumbed my entire home in two days. Superb work completed quickly!
From roof work to foundation repairs, the end result is high quality craftsmanship. I've contracted with Banner Construction since 1983 and never regretted it!
Banner Construction helped us with every phase of our 350 seat church addition- we couldn't have done it without them!






RENO PROFESSIONAL PAINTERS
For over 50 years, Banner Construction has been providing businesses and families with the highest quality remodeling and home improvement services. Our Reno remodeling contractors are highly skilled at interior and exterior painting. We can help beautify your home or business. Our Reno Painters customize our services to your specific tastes in order to ensure your complete satisfaction.
Call Banner Construction today if you need to hire an interior or exterior painting contractor in Reno. Our Reno Remodeling Contractor is always happy to help local families and businesses with these projects. We guarantee that you will love the new look of your Reno property after our painting services.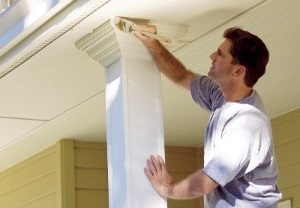 Interior Painting Conducted by Reno Experts
When you decide to paint the interior of your home, it is not as simple as purchasing paint, applying the paint, and letting it dry. Many Reno residents make this mistake, and as such, the results of their efforts are often disappointing. If you hire a professional interior painter, you can avoid common mistakes and know that the job will be done right the first time.
At Banner Construction, our interior remodelers are also expert interior painters. When we paint the inside of your home as part of a remodeling project or as a stand-alone job, we follow a meticulous set of procedures in order to ensure that the end results are the best. During every painting project, we expertly prepare the surface to be painted before we apply the paint.
The professional painting preparation process can involve many different tasks. Our team can remove wallpaper, repair drywall, remove surface irregularities, and clean surfaces before we begin painting. Our interior painters will also apply primer to ensure that the end coating is uniform and optimally textured. By taking these steps to prepare the surfaces of your home, we can guarantee that you will be completely satisfied with the results of your interior painting project.
Painting Services and Remodeling in Reno
At Banner Construction, our Reno contractors are always striving to provide local families and businesses with the highest quality services. At the same time, we work our hardest to give our customers the best experience possible. We understand that when you are conducting a remodeling or interior design project, you often intend to change the color scheme of your property as well. As such, our team are expert painters and remodelers.
By handling both the remodeling and painting aspects of your project, Banner Construction saves you the time, hassle, and expense of hiring multiple contractors for the job. In addition, because we handle the entire interior renovation project, we can guarantee that the whole process will be seamless and easy. You will only have to express your desires to our professionals and we can accomplish them through our remodeling and painting services. There will be no need to coordinate between different contractors. In this way, you can rest assured that your vision for your Reno home will become a reality.
Our Reno Painting Provides These Detailed Services
2 Tips For Successful Kitchen Remodeling
You and your family rely on your kitchen for your most important everyday tasks. Some of your most important family memories are shared in the kitchen. You and your family gather in this living space after a long day at work and school. You prepare your holiday meals in the kitchen and any form of entertainment always revolves around the room.
Budgeting For Your Reno Bathroom Remodeling
If you are considering remodeling your Reno home, one of the best places to start is in your bathroom. If you have never conducted a remodeling project, it is good to start in the bathroom because it is a relatively small space. As such, you will be able to complete the project in the quickest time frame.
If you are looking for a Reno Remodeling Contractor then please call 775-787-1966 or complete our online request form.