Banner Construction installed an antique, family heirloom chandelier in our home. This meant so much to us! They had to add new electric and wiring in order to put the chandelier w [...]
Banner Construction re-plumbed my entire home in two days. Superb work completed quickly!
From roof work to foundation repairs, the end result is high quality craftsmanship. I've contracted with Banner Construction since 1983 and never regretted it!
Banner Construction helped us with every phase of our 350 seat church addition- we couldn't have done it without them!






KITCHEN CABINETS INSTALLATION AND REFACING SERVICES IN RENO
When you walk into your kitchen, one of the first things that you notice are the kitchen cabinets. These fixtures play a large role in the aesthetics and functionality of the living space. At Banner Construction, Inc., our Reno kitchen remodeling experts can help you with all your cabinet installation and refacing needs.
Call Banner Construction, Inc., today if you need to hire a professionally licensed kitchen remodeling contractor in Reno. Our courteous and polite staff would be happy to assist you in any way that we can. Our knowledgeable experts can answer any questions that you may have about your prospective kitchen cabinets or our exceptionally performed services. We would be excited to schedule your appointment today.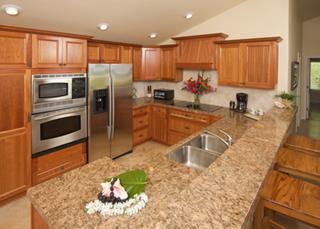 Kitchen Cabinets Customized to Your Unique Needs
At Banner Construction, Inc., our Reno kitchen remodeling contractors can help you with any cabinet installation project. Our kitchen layout designers can completely transform the footprint of your cabinetry. With our help, you will have the most beautiful kitchen cabinets that will provide adequate storage for all your kitchen needs. In this way, we can guarantee that you will be completely satisfied with your new cabinets.
We understand that you have a vision of what you want your kitchen to be. During your kitchen cabinet installation project, our professionals will constantly stay attuned to your aesthetic and functional goals. Throughout the process, all of our efforts will be focused on turning your dream kitchen into a reality. Through this customized approach, we can guarantee that you and your family will love the new look of your kitchen cabinets.
Kitchen Cabinet Refacing Services in Reno
If your kitchen cabinets are older, outdated, or damaged, they can substantially impact the look of your kitchen. Your kitchen is the living space in which you entertain family and friends. In order for you to enjoy your kitchen to the utmost, it is important for your cabinets to look their best.
At Banner Construction, Inc., our Reno kitchen remodeling contractors can help beautify your kitchen cabinets by conducting a refacing project. Kitchen cabinet refacing involves leaving your cabinet layout in place and replacing the doors of your cabinets. As such, a kitchen cabinet refacing project is an extremely cost effective way to completely transform the look of your living space.
Our highly skilled remodeling contractors can conduct a kitchen cabinet refacing project in isolation or as part of an even bigger remodeling project. In either event, you cabinets will look brand new after we complete this amazing service.
3 Surefire Signs It's Time To Replace Your Old Kitchen Cabinets
If you're one of the many homeowners out there who finds themselves pausing every time they pass by their old kitchen cabinets, wondering if the time has come to finally make a change, you have likely already answered your own question.....
2 Tips For Successful Kitchen Remodeling
You and your family rely on your kitchen for your most important everyday tasks. Some of your most important family memories are shared in the kitchen. You and your family gather in this living space after a long day at work and school. You prepare your holiday meals in the kitchen and any form of entertainment always revolves around the room. READ MORE
If you are looking for a Reno Remodeling Contractor then please call 775-787-1966 or complete our online request form.