CUSTOMIZED BATHROOM REMODELING IN RENO
If you have been thinking about improving your Reno home, you should consider starting with a bathroom remodeling project. At Banner Construction, our Reno Bathroom Remodeling contractors are uniquely skilled to help you maximize the benefits of your project. Our contractors have over three generations of experience assisting local families with all manners of residential and commercial remodeling. We would be excited to continue this tradition of excellence during your next bathroom remodeling project. At Banner Construction, we understand that you and your family rely on your bathroom each and every day for some of your most important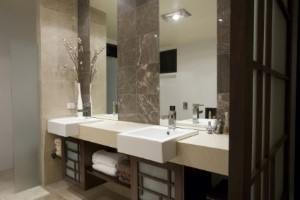 tasks. As such, our bathroom remodeling contractors work their hardest to ensure that your new living space is both aesthetically beautiful and highly functional. By enhancing both of these aspects, we can guarantee that you will be completely satisfied with our bathroom remodeling services. Call Banner Construction today if you need to hire a bathroom remodeling contractor in Reno. Our courteous and polite Reno Remodeling Contractor is here to help you in any way that we can. We would be happy to provide you with advice as to how to get your bathroom remodeling project started. Our experts can answer any question that you have, and we can schedule your appointment today.
Bathroom Remodeling Conducted by Reno Experts
At Banner Construction, our Reno bathroom remodeling contractors have a wide range of skills that can be put to task to truly transform your bathroom. We are already highly skilled at traditional bathroom remodeling services like installing flooring, cabinetry, countertops, and vanities.
On top of that, however, our bathroom remodeling contractors are also professionally trained and licensed in carpentry, plumbing, and electrical work. As such, out team can customize every aspect of your Reno bathroom. We can install highly beautiful lighting fixtures. Our professionals can augment your plumbing to create a spa-like bathroom for you and your family. With this wide range of skills, our Reno bathroom remodeling contractors can achieve all of your unique goals.
Green Bathroom Remodeling Services in Reno
At Banner Construction, our Reno bathroom remodeling contractors understand that many local residents are trying to renovate their homes in a more eco-friendly and energy saving fashion. Our professionals are extremely knowledgeable about all bathroom remodeling goals including green remodeling.
Our team can provide your with sustainably sourced and recycled content flooring, cabinetry, and countertops. We can also help you reduce your energy and water consumption through the plumbing appliances and fixtures you choose. After our experts assist you with your green bathroom remodeling project, you can enjoy the fact that you made the right choice for your Reno home while you are saving money on your monthly utility bills.
Our Reno Bathroom Remodeling Provides These Detailed Services
Budgeting For Your Reno Bathroom Remodeling
If you are considering remodeling your Reno home, one of the best places to start is in your bathroom. If you have never conducted a remodeling project, it is good to start in the bathroom because it is a relatively small space. As such, you will be able to complete the project in the quickest time frame.
If you are looking for a Reno Remodeling Contractor then please call 775-787-1966 or complete our online request form.