Banner Construction installed an antique, family heirloom chandelier in our home. This meant so much to us! They had to add new electric and wiring in order to put the chandelier w [...]
Banner Construction re-plumbed my entire home in two days. Superb work completed quickly!
From roof work to foundation repairs, the end result is high quality craftsmanship. I've contracted with Banner Construction since 1983 and never regretted it!
Banner Construction helped us with every phase of our 350 seat church addition- we couldn't have done it without them!






BEAUTIFUL COUNTERTOPS IN RENO
Whenever you are remodeling a kitchen or bathroom, one of the most important choices that you will make is the countertop material that you will use. At Banner Construction, our Reno Remodeling Contractor works with all conventional countertop materials including marble and granite. Our Reno Countertops will provide you with amazingly beautiful workspaces. Coupled with our expert advice and installation procedures, you are guaranteed to love these additions to your Reno home.
Call Banner Construction if you are interested in installing marble or granite countertops into your Reno home. Our kitchen and bathroom remodeling contractors can assist you with choosing and installing these materials. Our staff is happy to answer any question that you have, and we can schedule your appointment today.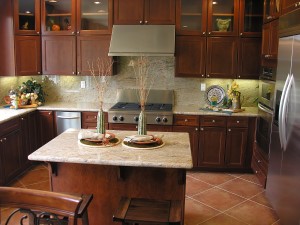 Reno Granite Countertops Provide Beauty and Durability
The most popular stone material for kitchen countertops is granite. Granite countertops are a great way to beautify the your kitchen while providing for all of your workspace needs. At Banner Construction, our kitchen countertop experts can provide you with a wide range of sample materials so that you can make the best choice for you Reno home.
Granite countertops come in many varieties. Granite comes in a wide range of colors that can match the design scheme for any kitchen. In addition, generally, granite countertops are very uniform. This aspect makes them great for an open floor plan kitchen by not segmenting the look of the room.
Granite countertops are extremely popular for the kitchen because they are highly durable. In the kitchen, countertops are subjected to constant wear and tear. The stain and water resistance of granite makes it the ideal choice for this tough environment.
Reno Marble Countertops Provide Extreme Elegance
If you are looking for a bold, classic look for your remodeling project, you should consider installing marble countertops. Marble countertops are extremely popular because they provide an old world elegance to any living space. These natural materials are equally suited to both kitchens and bathrooms.
Like granite, marble countertops come in many different colors. However, one of the aspects of marble countertops that provides its unique beauty is the variation in grain pattern. When you install a marble countertop in your home, you can enjoy the truly singular look that you are adding to your property.
At Banner Construction, our marble countertop experts can provide you with the most beautiful materials for your kitchen or bathroom remodeling project. We will custom install the stone so that its natural grain and color complement every aspect of your interior design scheme. You and your Reno family will love the look of your marble countertops for years to come.
Our Reno Countertops Provides These Detailed Services
2 Tips For Successful Kitchen Remodeling
You and your family rely on your kitchen for your most important everyday tasks. Some of your most important family memories are shared in the kitchen. You and your family gather in this living space after a long day at work and school. You prepare your holiday meals in the kitchen and any form of entertainment always revolves around the room.
Budgeting For Your Reno Bathroom Remodeling
If you are considering remodeling your Reno home, one of the best places to start is in your bathroom. If you have never conducted a remodeling project, it is good to start in the bathroom because it is a relatively small space. As such, you will be able to complete the project in the quickest time frame.
If you are looking for a Reno Remodeling Contractor then please call 775-787-1966 or complete our online request form.