Banner Construction installed an antique, family heirloom chandelier in our home. This meant so much to us! They had to add new electric and wiring in order to put the chandelier w [...]
Banner Construction re-plumbed my entire home in two days. Superb work completed quickly!
From roof work to foundation repairs, the end result is high quality craftsmanship. I've contracted with Banner Construction since 1983 and never regretted it!
Banner Construction helped us with every phase of our 350 seat church addition- we couldn't have done it without them!






QUALITY FENCING INSTALLATION & REPAIR IN RENO
At Banner Construction, our Reno exterior remodeling contractors have been providing local business owners and homeowners with the highest quality property improvement services since 1959. With over three generations of experience in the business, our contractors are the most highly skilled in the area. Our professionals can provide for all of your exterior remodeling needs, including metal and wooden fence construction.
When you hire our Reno Fencing service, you can rest assured that we will do the job correctly the first time around. At Banner Construction, each of our fencing professionals is highly skilled and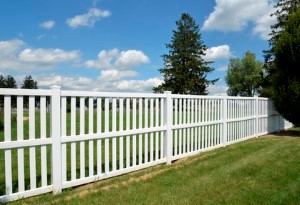 expertly trained. We strictly maintain a wide range of professional licenses and a full line of trade insurance. When you trust us with your fence construction project, you will know that you trusted the right team with the job.
Call Banner Construction today if you need to hire a professional Reno Remodeling Contractor to construct a fence on your Reno property. Our courteous, polite, and knowledgeable staff is happy to assist you in anyway that we can. We would be excited to answer any of your questions. and we can schedule your appointment today.
Metal Fencing Construction in Reno
At Banner Construction, our Reno exterior remodelers can help you design and install beautiful metal fencing. We work with anything from traditional chain link fencing to decorative metal fencing. No matter what you have in mind for your Reno fencing project, our contractors can build it for you.
If you are trying to decorate the front yard of your Reno home, decorative metal fencing is a great option. You can use it to set your property off from side walks and roadways. In addition to enhancing the overall look of your Reno home, these metal fences will add a level of safety to recreation activities in your front yard. You and your children and pets can enjoy time in your front yard with a barrier between your loved ones and dangerous roads.
Privacy Fencing Construction in Reno
At Banner Construction, our Reno exterior remodelers are highly skilled at constructing beautiful privacy fences. You will be able to enjoy your backyard in peace while feeling the extra security that a privacy fence provides. You can allow your pets and children to roam freely within your backyard knowing that your new fence has them safely contained. Privacy fences provide the perfect combination of security, comfort, and traditional aesthetics.
When our professionals install a privacy fence for you, we pay close attention to the details in order to provide you with a uniform property boundary. Our Reno fencing contractors also take the time to protect your new privacy from the elements. We can paint or stain your fence to enhance its beauty and to protect it from adverse conditions.
Our Reno Fencing Provides These Detailed Services
Which Type of Fencing Suits Your Sparks Home?
A fence not only encloses your Sparks yard and offers security and privacy but also serves as an attractive exterior feature. When selecting a remodeling contractor for a fence installation, you must also choose a type of fencing that complements your home and meets your household's needs....
If you are looking for a Reno Remodeling Contractor then please call 775-787-1966 or complete our online request form.