Banner Construction installed an antique, family heirloom chandelier in our home. This meant so much to us! They had to add new electric and wiring in order to put the chandelier w [...]
Banner Construction re-plumbed my entire home in two days. Superb work completed quickly!
From roof work to foundation repairs, the end result is high quality craftsmanship. I've contracted with Banner Construction since 1983 and never regretted it!
Banner Construction helped us with every phase of our 350 seat church addition- we couldn't have done it without them!






RENO REMODELING CONTRACTORS CREATING BEAUTIFUL BATHROOM VANITIES
Since 1959, Banner Construction, Inc., has proudly provided the highest quality home improvement and remodeling services in to Reno residents. Our professional craftsmen specialize in all manners of interior remodeling, including bathroom remodeling projects. One of the most critical features of you bathroom is the vanity. Our experts can design and install a bathroom vanity that will beautify and transform your living spaces.

At Banner Construction, Inc., our highly skilled professionals are here to help you with every aspect of your bathroom vanity design and installation project. We understand the importance of your living spaces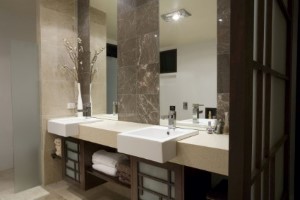 to you and your family. As such, our remodeling contractors are honored every time they are called up to renovate a home. In every project we undertake, our main goal is to honor that trust by providing the highest quality remodeling services possible. Bringing this approach to your next bathroom vanity related project, our experts can guarantee your complete satisfaction with our services.
Call Banner Construction, Inc., today if you need to hire a professionally licensed remodeling contractor to assist you with bathroom vanity design project. Our courteous and polite staff would be happy to assist you in any way that we can. Our experts can answer any questions that you may have about your prospective bathroom vanity. We would be very excited to schedule your appointment today.
Bathroom Vanity Design in Reno
At Banner Construction, Inc., our Reno remodeling contractors have the knowledge, skill, and experience necessary to handle every aspect of your bathroom vanity construction project. Our professionals can assist you at the very beginning by helping you expertly design your new bathroom vanity. With our help, you have the opportunity to design your bathroom vanity in a way that truly enhances your user experience within this living space.
Bathroom Vanity Installation in Reno
After our professionals help design the bathroom vanity that will work best for you and your family, we can install every portion of it for you in thee most expert fashion. Our bathroom vanity installation professionals can assist you with all of the following aspects of the project:
By conducting both the design and installation phase of the project, our Reno bathroom remodeling contractors guarantee the best possible results. In the end, every portion of your bathroom vanity will be customized to your unique needs. As such, you will thoroughly enjoy using your bathroom vanity for years to come.
Our Reno Bathroom Remodeling Provides These Detailed Services
Budgeting For Your Reno Bathroom Remodeling
If you are considering remodeling your Reno home, one of the best places to start is in your bathroom. If you have never conducted a remodeling project, it is good to start in the bathroom because it is a relatively small space. As such, you will be able to complete the project in the quickest time frame.
If you are looking for a Reno Remodeling Contractor then please call 775-787-1966 or complete our online request form.