Banner Construction installed an antique, family heirloom chandelier in our home. This meant so much to us! They had to add new electric and wiring in order to put the chandelier w [...]
Banner Construction re-plumbed my entire home in two days. Superb work completed quickly!
From roof work to foundation repairs, the end result is high quality craftsmanship. I've contracted with Banner Construction since 1983 and never regretted it!
Banner Construction helped us with every phase of our 350 seat church addition- we couldn't have done it without them!






RENO REMODELING CONTRACTORS INSTALLING BEAUTIFUL BATHROOM TILES
For almost 60 years, Banner Construction, Inc., has been serving the Reno community with high quality construction and remodeling services. Our remodeling contractors are proud to be some of the most experienced and skilled professionals in the area. Our team assists local homeowners with all manners of interior remodeling projects, including bathroom remodeling. One of the defining features of any bathroom is its tiles. Our Reno remodeling contractors can provide you with the most beautify bathroom tile surfaces.
Call Banner Construction, Inc., today if you are interested in hiring a professionally licensed remodeling contractor to assist you with a bathroom tile project in Reno. Our courteous and polite staff would be happy to help you get your project started. If you have any questions, our bathroom tile and remodeling experts would be glad to answer them for you. We would be more than excited to schedule your appointment today.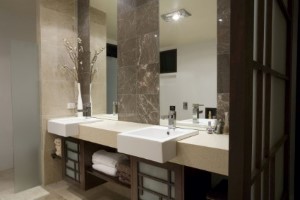 Bathroom Tile Style Options in Reno
One of the best things about bathroom tiles is that they come in and extremely wide range of styles. First, bathroom tiles come in virtually any color. Second, you can purchase bathroom tiles that look like natural stone or that have a ceramic finish. Third, bathroom tiles come in a wide variation of shapes and sizes. When you decide to use bathroom tiles during your next remodeling project, you truly have an opportunity to create a unique, singular look for your Reno living spaces.
At Banner Construction, Inc., our highly skilled Reno bathroom remodeling contractors can help you pick the best materials for your project. We will provide you with a wide range of bathroom tile options. With our assistance and advice, you are guaranteed to be completely satisfied with the bathroom tiles that you end up choosing.
Versatility of Bathroom Tiles
At Banner Construction, Inc., our Reno remodeling contractors can help you with all your bathroom tile related goals and needs. After we help you select the best tile styles for your bathroom, our professionals can install these wonderful materials virtually anywhere in the living space. Bathroom tiles are so versatile that they work great as flooring material and as a decorative countertop.
Our Reno bathroom remodeling contractors can help you make you tile flooring or countertop truly unique by designing a pattern out of multiple tiles. After we install these features for you, you will be stunned by the look of your bathroom tiles. In the end, our bathroom remodeling contractors guarantee that you will be completely satisfied with our bathroom tile related services.
Our Reno Bathroom Remodeling Provides These Detailed Services
Budgeting For Your Reno Bathroom Remodeling
If you are considering remodeling your Reno home, one of the best places to start is in your bathroom. If you have never conducted a remodeling project, it is good to start in the bathroom because it is a relatively small space. As such, you will be able to complete the project in the quickest time frame.
If you are looking for a Reno Remodeling Contractor then please call 775-787-1966 or complete our online request form.