Banner Construction installed an antique, family heirloom chandelier in our home. This meant so much to us! They had to add new electric and wiring in order to put the chandelier w [...]
Banner Construction re-plumbed my entire home in two days. Superb work completed quickly!
From roof work to foundation repairs, the end result is high quality craftsmanship. I've contracted with Banner Construction since 1983 and never regretted it!
Banner Construction helped us with every phase of our 350 seat church addition- we couldn't have done it without them!






PROFESSIONAL RENO KITCHEN REMODELING
Since 1959, Banner Construction has proudly served the Reno community by providing the highest quality construction and remodeling services. Our Reno kitchen remodeling contractors are highly skilled and expertly trained. We understand the importance of this living space. As such, in every kitchen remodeling project, we put our best effort forward to ensure that you are completely satisfied.
At Banner Construction, our Reno Kitchen Remodeling strives to provide residents with the most customized services possible. We focus both on the aesthetics and functionality of your kitchen. By beautifying your kitchen and enhancing the usability of the living space, we guarantee that you and your family will thoroughly enjoy the your new kitchen.
Call Banner Construction today if you are considering a kitchen remodeling project in Reno. Our courteous and knowledgeable Reno Remodeling Contractor would be happy to answer any questions that you have about your prospective project or our exceptional services. We can schedule your appointment today.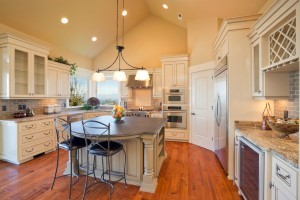 Beautify Your Home Through Kitchen Remodeling
During your next kitchen remodeling project, you have the opportunity to beautify the interior of your Reno property. At Banner Construction, our kitchen remodeling contractors are highly skilled at helping you design the kitchen that best meets your family's aesthetic tastes.
During every kitchen remodeling project, we provide our customers with a wide range of sample materials and expert advice so that you can make the best choices. Our team can expertly install gorgeous countertops, elegant flooring, exquisite backsplashes, and magnificent cabinetry. After our customized kitchen remodeling services, you and your family are guaranteed to love the look of your new living space.
Highly Skilled And Versatile Reno Kitchen Remodelers
In addition to the traditional aspects of kitchen remodeling, our contractors can help you completely redesign every aspect of your Reno kitchen. When you hire Banner Construction for your remodeling project, there is no limit to what you can accomplish.
Each of our contractors are professionally trained and licensed at general construction, electrical work, plumbing, heating, and carpentry. As such, we have the skills and methods necessary to help turn your dream kitchen into a reality. If you have any unique kitchen remodeling goals, our contractors can achieve them. Our contractors can redesign your plumbing system or electrical system during your kitchen remodeling project in a fashion that uniquely fulfills all of your needs.
Throughout the entire process, our kitchen remodeling contractors will constantly stay attuned to the unique goals and needs of you and your family. You and your family's satisfaction is our top priority. By customizing every aspect of your Reno kitchen to you, we can guarantee that you and your family will enjoy the results of your kitchen remodeling project for years to come.
Our Reno Kitchen Remodeling Provides These Detailed Services
3 Surefire Signs It's Time To Replace Your Old Kitchen Cabinets
If you're one of the many homeowners out there who finds themselves pausing every time they pass by their old kitchen cabinets, wondering if the time has come to finally make a change, you have likely already answered your own question.....
Add Ease to Your Cooking with a Kitchen Remodeling
You and your family rely on your kitchen for your most important everyday tasks. Cooking: It's one of the great joys anyone can experience . . . but only if your kitchen is set up in a way that makes cooking easy and streamlined. If your Reno kitchen doesn't enjoy this kind of setup, you need to call the remodeling contractors at Banner Construction for a kitchen remodeling. We can add ease and enjoyment to your cooking in a number of ways.
If you are looking for a Reno Remodeling Contractor then please call 775-787-1966 or complete our online request form.